News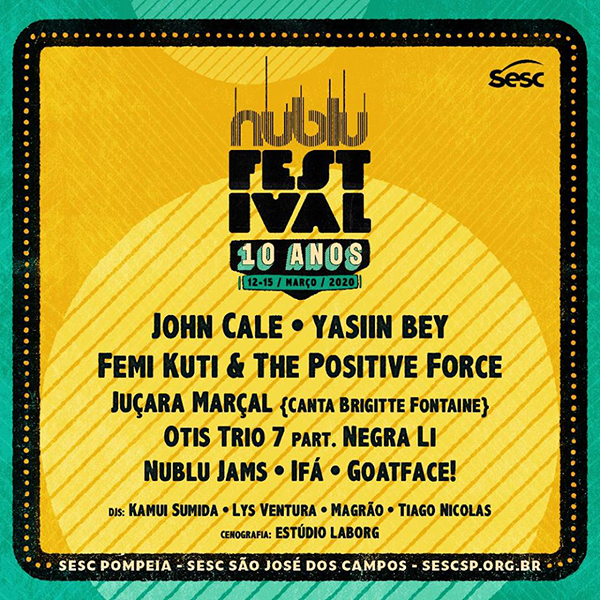 for more information and tickets: link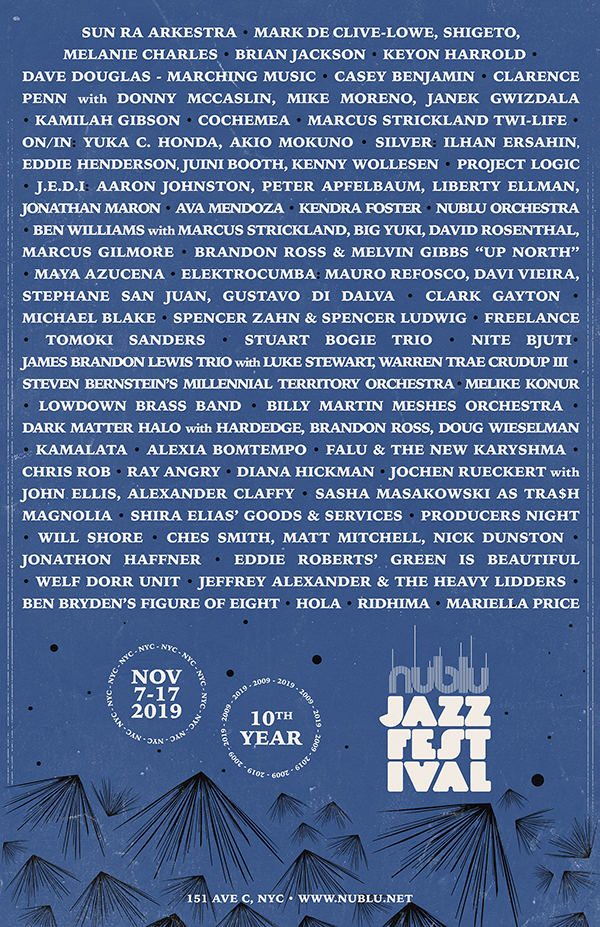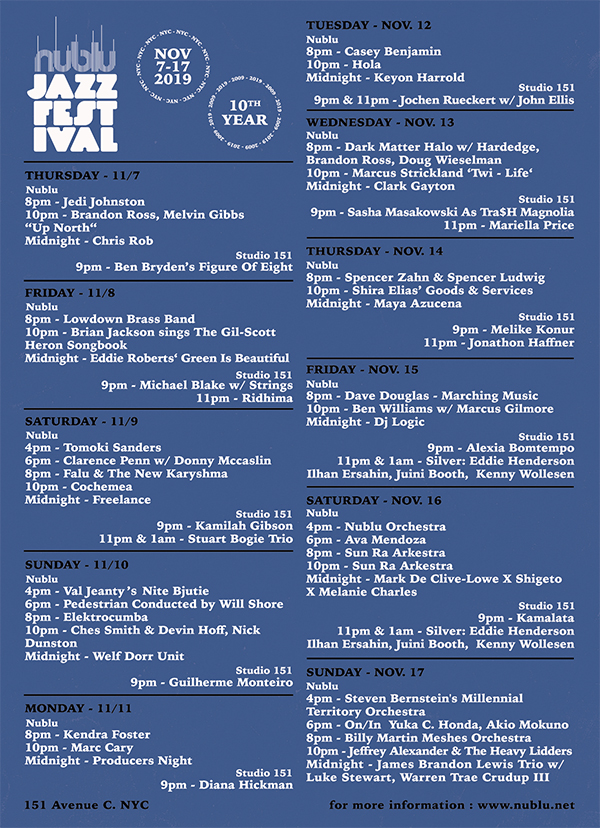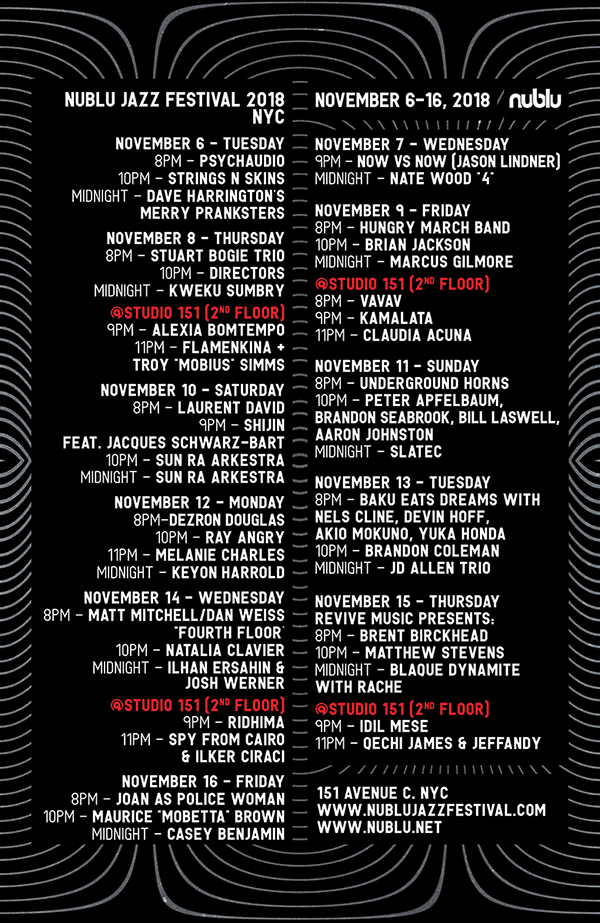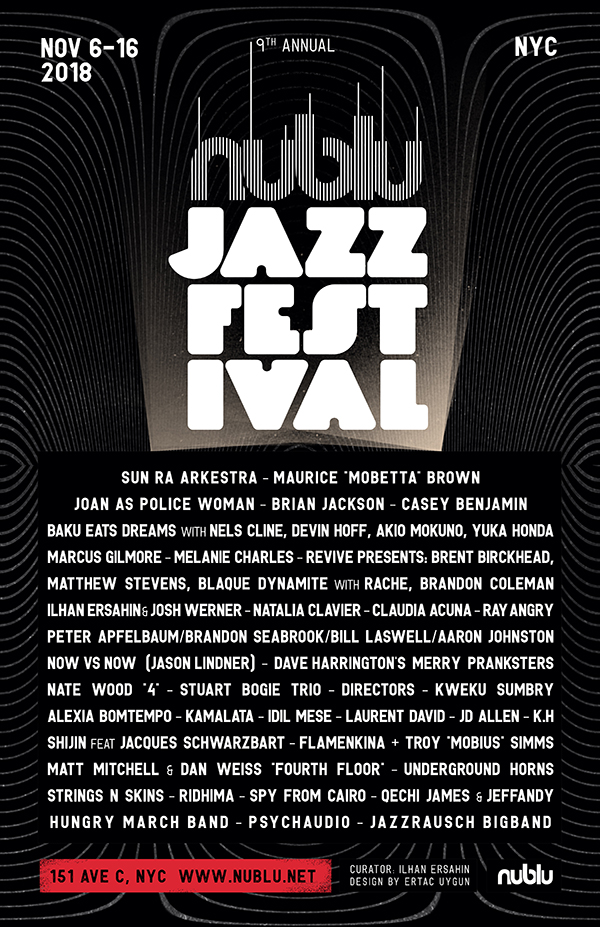 It's that time again, jazz-loving boys and girls! The 2018 edition of the annual Nublu Jazz Festival is upon us and as usual we have LOTS of goodies in store for you. A quick glance at this year's schedule reveals almost two weeks' worth of shows you won't want to miss. The stylistic sprawl is broad and ranges from living legends to modern masters to powerful promises of the future. What binds them all together is dedication to the glorious tradition of adventurous improvised music. Many of these shows will be sold out in advance so act quickly on those you see that immediately grab your attention. You'll be glad you did. See you there!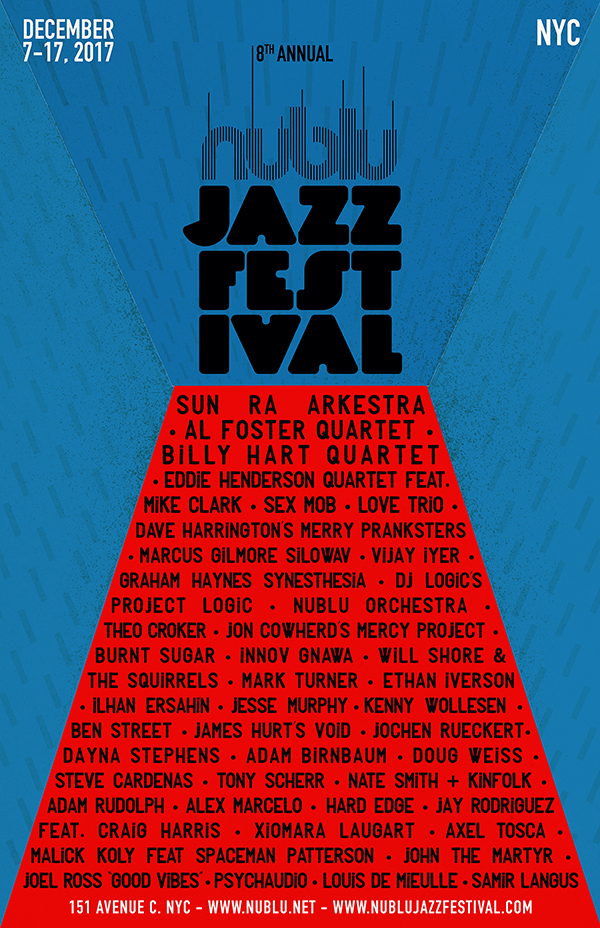 8th Annual Nublu Jazz Festival – NYC
It's that time again! For the eighth year in a row, Nublu is seeing out the year with a major celebration of its jazz roots in December. Drawing from its regular roster of renowned  musicians who regularly grace its two stages as well as special guest performers of honor, the Nublu Jazz Festival of 2017 promises to be one of the most action-packed to date, with the incomparable Sun Ra Arkestra being merely the tip of the iceberg.
DAY 1
Thursday, December 7 – 2017
Midnight – Louis De Mieulle
10pm – Psychaudio
8pm – John The Martyr
DAY 2
Friday, December 8 – 2017
Midnight – Love Trio With Ilhan Ersahin, Jesse Murphy, Kenny Wollesen Feat. Eddie Henderson
8pm & 10pm – Al Foster Quartet With Dayne Stephens, Adam Birnbaum, Doug Weiss
DAY 3
Saturday, December 9 – 2017
Midnight & 2am – Dave Harrington's Merry Pranksters
10pm – Eddie Henderson / Essiet Essiet / Mike Clark / Peter Zak
8pm – Vijay Iyer Trio With Marcus Gilmore
Day 4
Sunday, December 10 – 2017
Midnight – Theo Croker
10pm – Innov Gnawa
8pm – Samir Langus + Friends
Day 5
Monday, December 11 – 2017
Midnight – Will Shore And The Squirrels
10pm – Nublu Orchestra
8pm – Burnt Sugar
Day 6
Tuesday, December 12 – 2017
Midnight – Dave Harrington / Ilhan Ersahin / Kenny Wollesen
8pm & 10pm – Billy Hart Quartet with Mark Turner, Ethan Iverson, Ben Street
Day 7
Wednesday, December 13 – 2017
Midnight – Axel Tosca & Xiomara Laugart
10pm – Jon Cowherd's Mercy Project
with Steve Cardenas, Tony Scherr, Nate Smith
8pm – Graham Haynes Synesthesia
with Adam Rudolph, Alex Marcelo, Hard Edge
Day 8
Thursday, December 14 – 2017
Midnight – Sexmob with Steven Bernstein, Briggan Krauss,
Tony Scherr, Kenny Wollesen
10pm – Nate Smith + Kinfolk
8pm – Joel Ross "Good Vibes"
Day 9
Friday, December 15 – 2017
Midnight – Marcus Gilmore Silowav
10pm – James Hurt's Void
8pm – Malick Koly Feat. Spaceman Patterson
Day 10
Saturday, December 16 – 2017
10pm & Midnight – Sun Ra Arkestra
8pm – Jay Rodriguez Feat. Craig Harris
Day 11
Sunday, December 17 – 2017
Midnight – Festival Closing Jam Session
10 pm – Dj Logic's Project Logic
with Vernon Reid, MonoNeon, Keyon Harrold, Jaleel Shaw, Marcus Gilmore and James Hurt
8pm – Jochen Rueckert with Joe Martin and Gilad Heiksman